For some odd reason I'd hoped to get through this latest art fair without any dramatic incidents but of course that would not make for a good story!
We rented a trailer again- it's really easy to load and then we have our own car the whole time. The drive to Sheboygan was lovely.
This person travels heavy!
When we got there, there was ample space to just pull up and it was shady too. We unloaded and then ate a picnic lunch right on our spot. As we prepared to set up they decided they had to do some last minute mowing!
Set up is getting smoother as we become more practised and find short cuts and routines.
We had a really nice spot.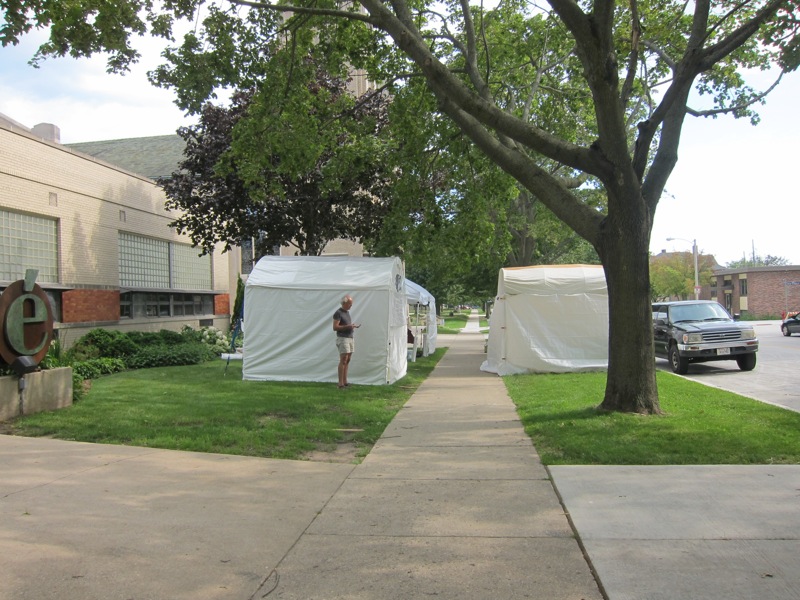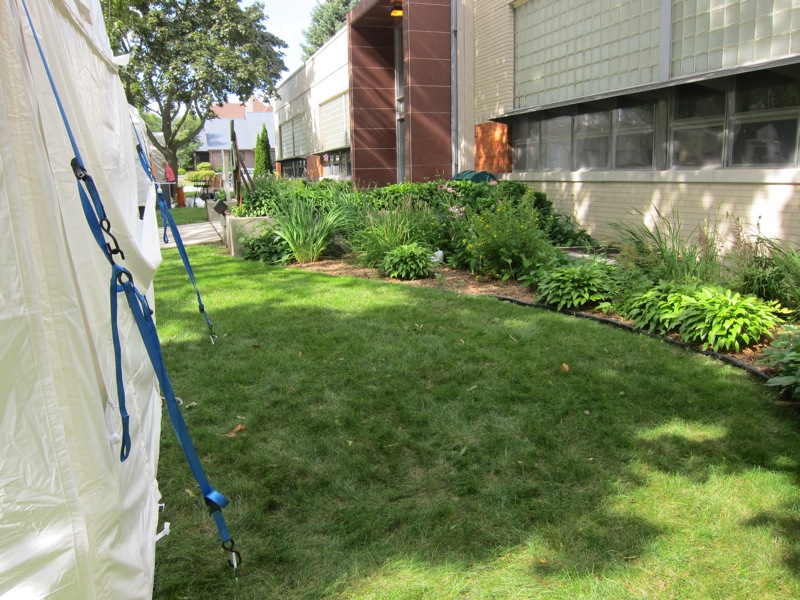 As soon as we were done, we went right over to the Kohler Arts Center.
The exhibits were excellent. Interesting, thought provoking and sophisticated.
Then there were the bathrooms. Luckily our little group (my family) had genders of both kinds and so got to give each other the "all clear" sign so we could view ALL the bathrooms (there were 4) Here is the main Men's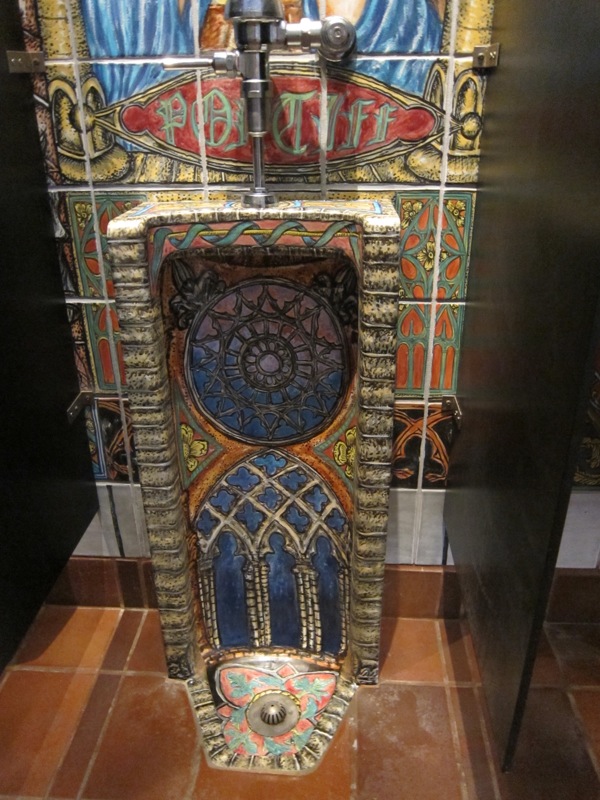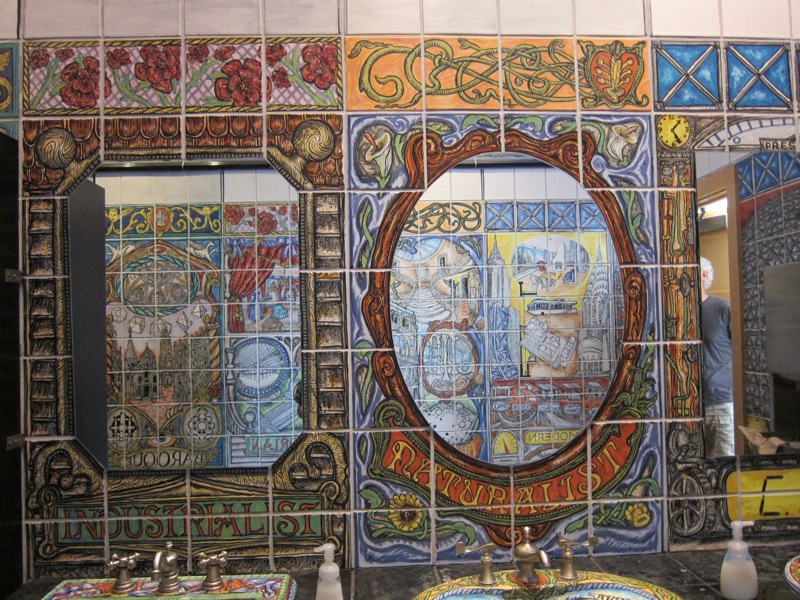 note that the mirrors are reflecting the other wall – all of it was AMAZING.
my favorite was this Women's Bathroom.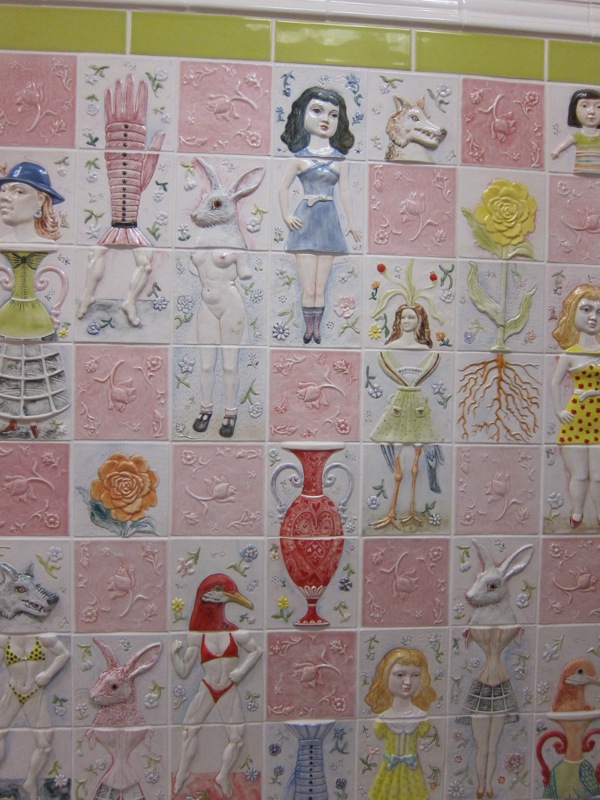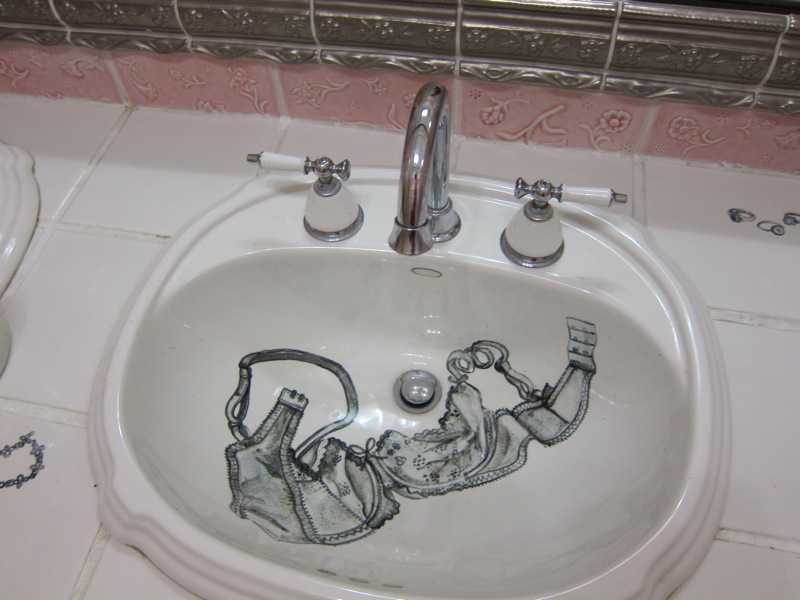 And the other Men's was also great.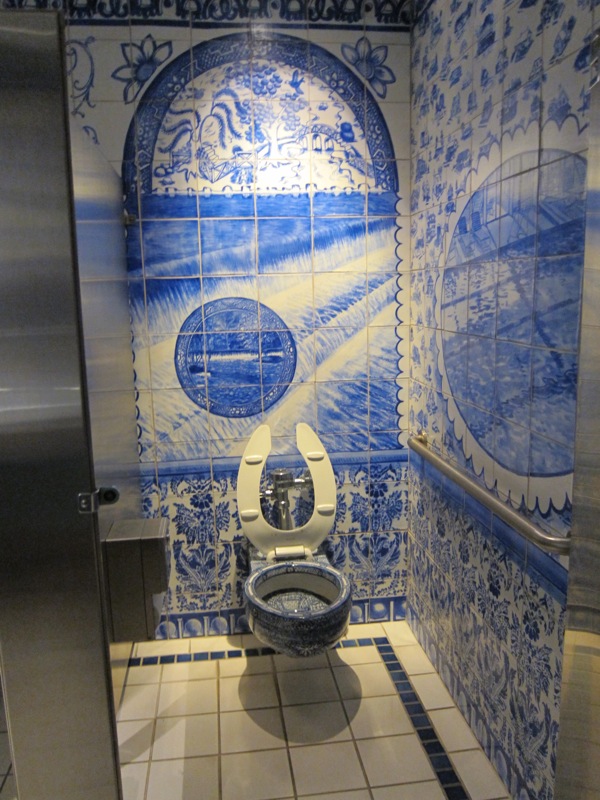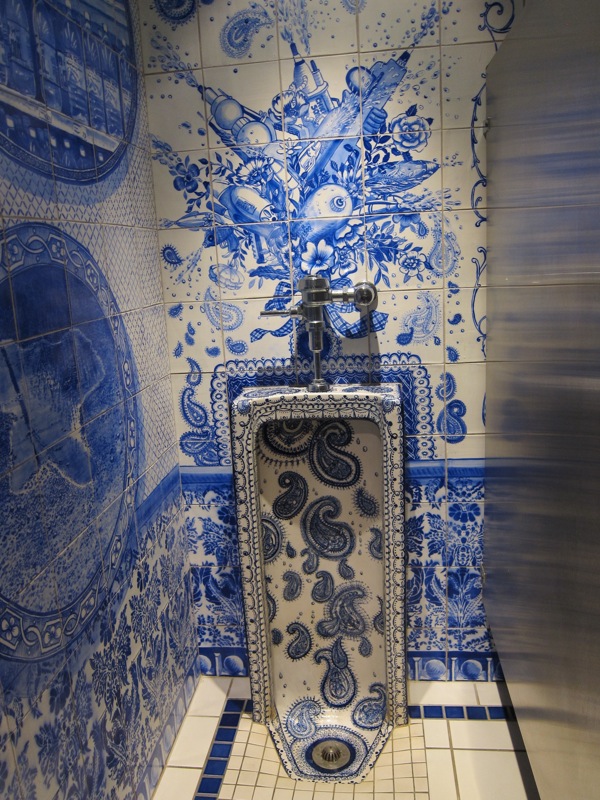 it was all about water. Although that paisley pattern has a germy look.
Next we went out to eat at Il Ritorno- OMG! The best pizza I've had in years! Possibly ever! Also a great salad. Sated, we went off to our hotel which has an attached water park and we all went on slides and inner tubes etc. until we were exhausted and saturated with chlorine.
The next morning dawned beautiful and sunny but I had a fairly slow day. At some point I left the husband in charge of my booth and walked around. I was really impressed with all the great pottery. I now own some pieces by Michael Kahn of Greenbush, Mi. and also Ryan Myers (who won an award at this fair) of Mudhead Studio.
As soon as we packed up for the night (all the pots in boxes on the ground) we went over to the( free) Artists Buffet and Awards Dinner. This is the 40th anniversary of the Festival. Chinese food, great salad and beer or wine; very nice.
Another winner was Sarah Chapman a fellow Lill denizen- a jeweller.
Back to the hotel where we had a walk on the beach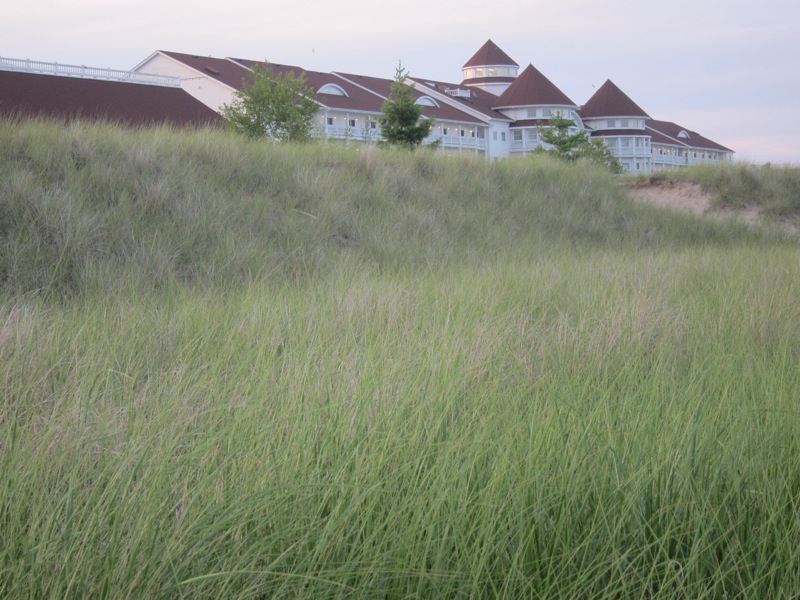 and the kids did the water park again. So far incident free, right? Everything going smoothly… BORING but smoothly.
The next morning we got all set up- we had the awnings down overnight because of possible wind- and right after we got all set up it rained on us pretty hard.
Unlike 57th Street, that didn't scare the customers away for the day- they came out with the sun and I had a slow but steady day.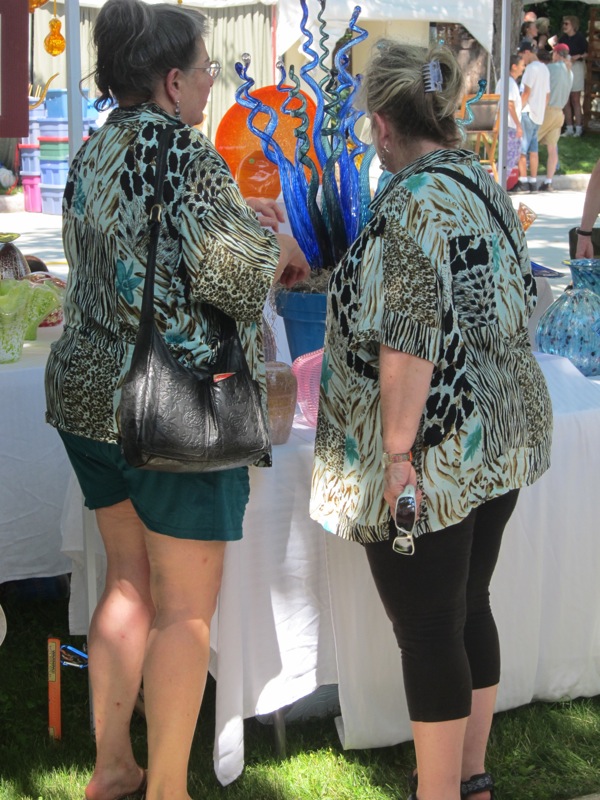 THEN with 45 mins left to the fair, while a volunteer was shopping in our booth, this HUGE TORNADO SIREN goes off. We were about a half a block from it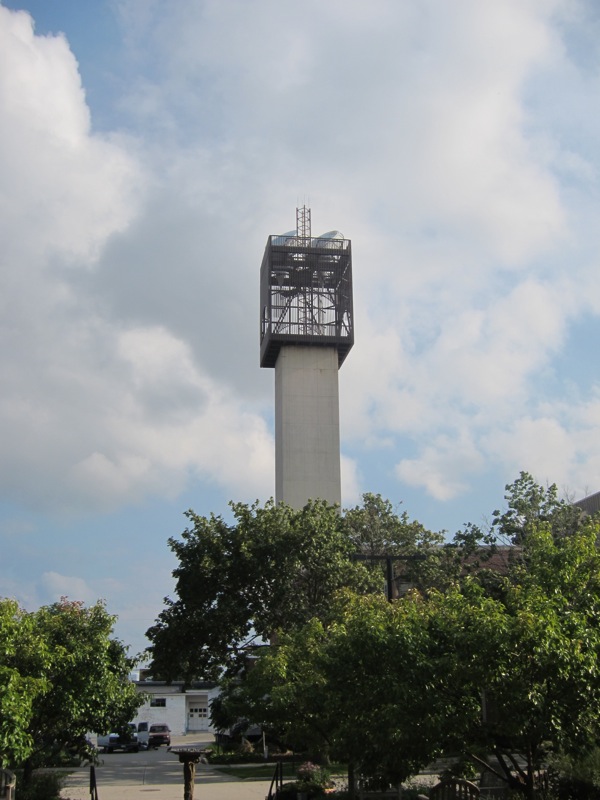 it was so loud it obliterated all thought and all my decision making functions in my brain shut down. Should I take my kids to the nearest basement? Should I try to pack up my pots? Was it a REAL TORNADO?? What if it was just a strong wind? Kids would be okay but the pots could be detroyed…. but what if it was a REAL TORNADO? Then I didn't care about the pots at all….. finally the sound stopped and my brain unfroze. The jeweller across the way who had already lost a tent that weekend (his wife was in Iowa at a different show and wind destroyed their better tent) was packing up extremely rapidly – to put it mildly.
It looked to me as though the artists all decided, "okay, the customers are gone, it's been a fair with lackluster profits* let's just call it a day"
*let me just reiterate here- the fair itself was really really nice- well run, great art, lovely setting, good treatment, good music. These are just tough economic times.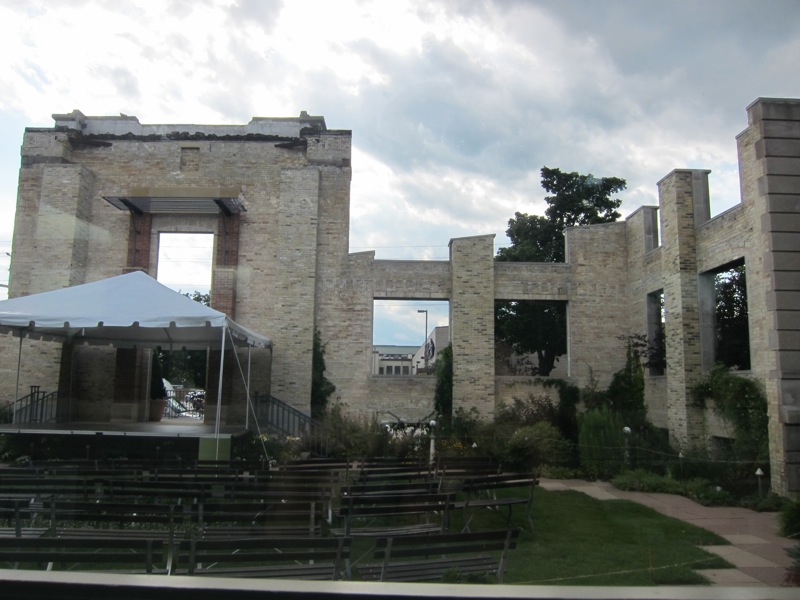 So we all began to pack up.The sun actually came out again and everyone was pretty relaxed.
Amazingly, some customers did return only to find the things they'd been eying for several hours packed away.
Load out was easy, and we were headed home by 6.
Oh, and by the way, there WAS a tornado- north of us!